Our meeting will be held in Glasgow City Chambers – enter via the Gatehouse Entrance on Cochrane St: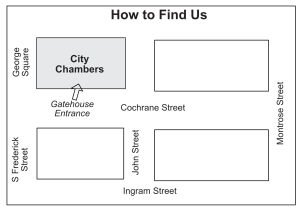 Agenda
1 . WELCOME AND INTRODUCTION
2. GUEST SPEAKER , DR STEPHEN MULLEN [see below]
3. APPROVAL OF CONSTITUTION [download copy of draft constitution]
4. RAMSHORN INVENTORY
5. PROPOSED WEBSITE
6. UPDATE ON PROPOSED RESTORATION OF GRAVESTONES
7. AOCB
Our Guest Speaker
Dr. Stephen Mullen, FRHistS
Scottish History, School of Humanities
R.204, 9 University Gardens
University of Glasgow, G12 8QH

Latest publication: 'Proslavery Collaborations Between British Outport and Metropole: The Rise of the Glasgow–West India Interest, 1775–1838', The Journal of Imperial and Commonwealth History,(2023). Open Access version here.
My monograph The Glasgow Sugar Aristocracy: Scotland and Caribbean Slavery (University of London Press, 2022) can be purchased or downloaded as an Open Access pdf here.