Introduction
MCTCC have put forward the following proposal for consideration. If you've any feedback, please send an email to info@mctcc.scot.
Basics
Glasgow City Council adopted the City Centre, Strategic Development Framework (SDF) in May. Its Foreword says; 'development that focus on people, place and planet will be crucial for a more attractive, sustainable city centre.' (p3) (Quotes in italics)
Vision: In 2050, the City Centre will be a vibrant, inclusive, sustainable and liveable place. A green, attractive and walkable City Centre will create a people –centred place that is climate resilient, fosters creativity and opportunity and promotes social cohesion, health and wellbeing and economic prosperity. (p3) This 30 year plan is a long time to wait.
The suggestion here shows how all these 'P' issues could have a simple, quick fix option for part of the Merchant City & Trongate area. There are appropriate features, which address all 'six Strategic Place Ambitions for the improvement of the City Centre.' (p5)
People
Putting people first, by forming an active travel corridor along King street and Candleriggs would help 'Re-populate the Centre and improve liveability to ensure sustainable neighbourhoods that promote health, wellbeing and social cohesion' (p5). Present and future residents will appreciate its '..urban fabric to reinforce the City's distinctive character and celebrate its heritage.' (p5)
Place
To 'Reduce traffic dominance and create a pedestrian and cycle friendly centre, ..that is healthier and cleaner' (p5) motor vehicle access to these streets would be restricted bymodal filters, which just allow for permitted vehicles. Adding part of Albion street, with its hospitality venues, Bell street westward, most of Wilson street including Brunswick and Hutchison streets would make a pleasant   
attractive people zone. More visitors and tourists, would then 'Reinforce the Centre's economic competitiveness and boost vibrancy to grow prosperity for all' (p5), This has been shown by many cities around the world which have done it. Emergency vehicles would have access as would local residents' cars, taxis, timed deliveries and some service ones, A TTRO would define the detail.
This active travel spine joins up Merchant City and Trongate areas. It connects to South City Way from the Clyde, so would 'Reconnect the Centre with communities and its riverside'. (p5)

Planet
Removing most of the motor traffic here will help Glasgow tackle the CO2 and other pollutants which are a major contributor to the climate crisis and worsen the effects of Covid-19. With less noise; congestion; anxiety; hazards and the hidden killer of pollutants it would create, as well as a more pleasant place for people to be, a welcome local LEZ (Low Emission Zone). The opportunity of a Merchant City Park (MCP) destination green public space on Ingram street, with its existing, beneficial trees, would be a major step to 'Green the Centre and make it climate resilient with a network of high quality public spaces .. that caters for a variety of human and climatic needs'. (p5) Allowing a building here would damage the planet, the locality and the City budget for mitigation.
Implementation
Making any changes is the job of the Council, along with other stakeholders. However the recent Space for People Temporary TRO (Traffic Regulation Orders) system, and without costly physical work needed, this scheme could be put in place quite quickly, tested and then assessed later on.
Illustration
Two marked up OpenStreetMaps of the area (below) show the Current features and a Proposition of how a People, Hospitality and Entertainments Neighbourhood could be established. (McPhaen)
Current
The following illustrates some of the features already in place in this area, or planned for it. Previous MCTCC (Merchant City & Trongate Community Council) proposals are also noted.
The Merchant City & Trongate area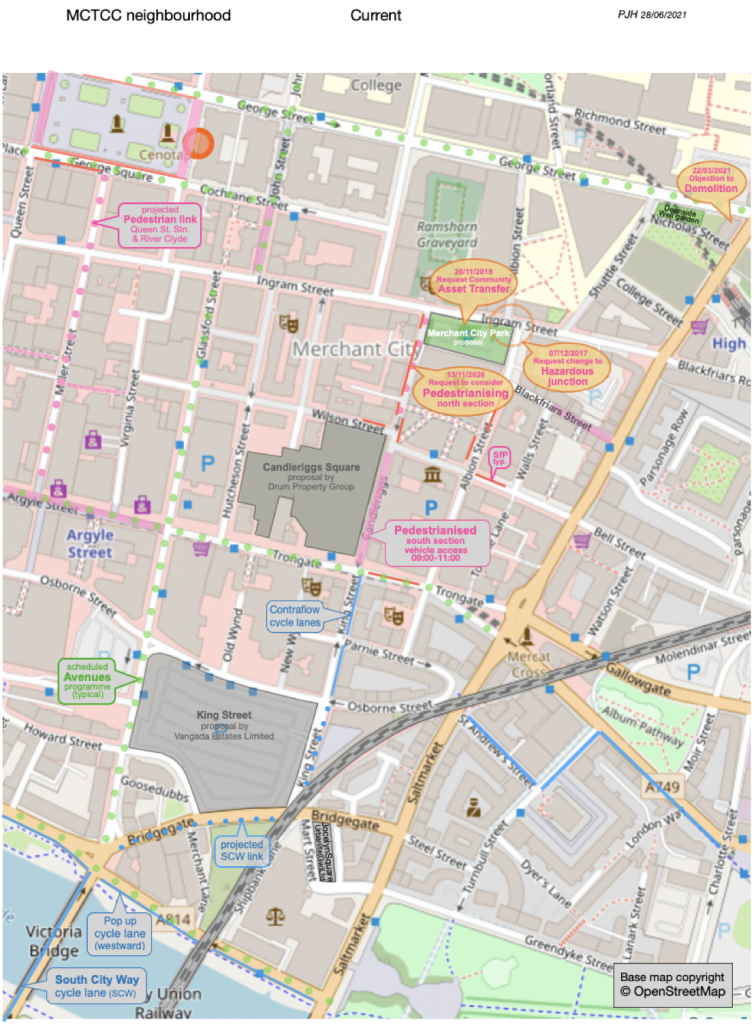 This area of Glasgow is a popular place to live, as part of the City central conservation area
An Artists' quarter attracts creative activity and an Innovation one caters to the universities
Two major development sites give increased accommodation options, including Hotels
Major entertainment hubs such as the City Halls, Old Fruit Market, Tron Theatre and others
A wide range of Restaurants, Bars, Cafés are concentrated in this hospitality hot spot
All these options attract many visitors and tourists to come and enjoy the many offerings
Part of Candleriggs is already pedestrianised, with contra-flow cycle lanes on King street
South City Way cycle route brings Active Travel to the Merchant City from the south side
Merchant City Park, mooted, as a Green Public Open Space for leisure, play and events
Two multi-story car parks are available, if needed
Proposition
The second map looks ahead to a potential McPhaen area, with other plans realised.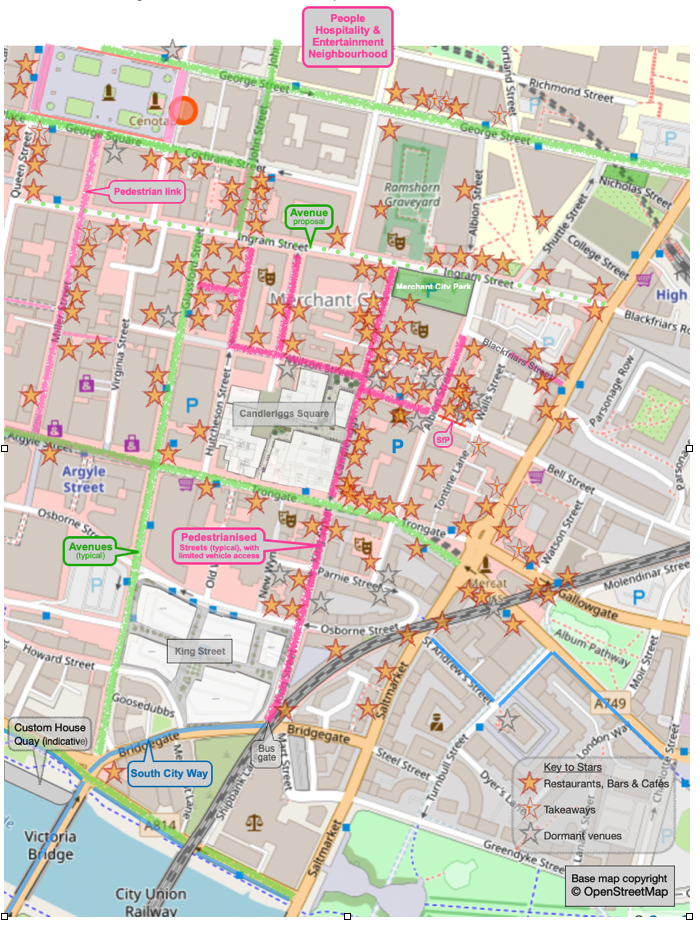 Hospitality venues, of various sorts and sizes are indicated by stars. Take-aways are shown paler with a 'T' and the dormant victims of the pandemic are grey, with the hope that they will revive.
Entertainment venues are represented, on the base map, by the drama comedy/tragedy masks.
Pedestrianised, restricted traffic, streets are shown in pink between Bridgegate and Ingram street. An extension east on Bell street and Albion street, up to Blackfriars street, covers venues there.
A Wilson street link west includes Brunswick and Hutchison streets to complete a McPhaen area.
Model Filters, with physical restricting elements, as well as signage, define the McPhaen streets.
(Waltham Forest mini Holland modal filters gave safer, more people and child friendly streets with active travel the natural choice for mobility. Local businesses thrived with new start ups opening.)
South Cycle Way (SCW) shown in blue has come across Victoria bridge and is to join up with King street. A Bus Gate may be needed at this junction if Osborne street is to continue to be used as a bus terminus.
King Street, Candleriggs Square and Jocelyn Square with planning permission appear completed.
Both major developments facing minimal traffic streets will no doubt generate further H&E venues.
Avenues planed are shown light green to be phased:- [A] Argyle St. [B] Clyde St. & Stockwell/Glassford Sts. [C] George & St Vincent Sts. & John St.. Ingram street could be added to cap the McPhaen.
Albion Street crossing hazard would be resolved. Access to Albion Gate and BBC is maintained.
Deanside Well Garden greenery to be kept, despite the fire and High/George streets demolitions.
Space for People measures (red lines) are made redundant by a McPhaen and Trongate Avenue. Bell street has a short section as vehicle will still access the multi-storey car park on Albion street.
Merchant City Park fulfils many of the SDF 'PRIORITY ISSUES' (p16), especially to 'Create more, and better, public spaces – to address the critical lack of public spaces in the City Centre, including the acute lack of child-friendly space.'. MCTCC, surrounding business and other established public support for a green, community socialising space, the trees and mural ensure that there will be robust protest and objection to any detrimental build on this site.
Status An outline proposal matching particular local features to the City Centre SDF objectives. A minimum disruption scheme as an exemplar liveable neighbourhood ready for trial implementation.