MCTCC is proud to be involved in our community. Here, we present some of our recent campaigns and initiatives.
Merchant City Park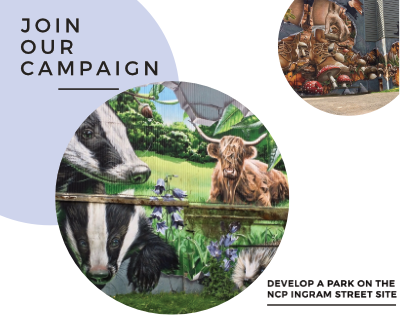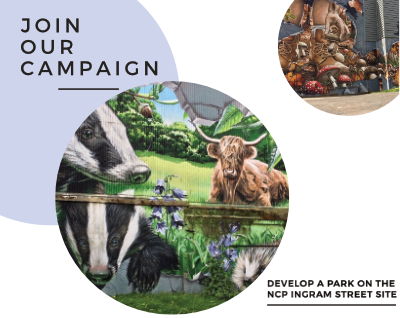 Merchant City Park is an initiative of the Merchant City & Trongate Community Council along with local residents and businesses in this area of Glasgow city.
We believe the plan will be wholly in line with objectives for the City; to be an attractive, healthy, sustainable, friendly place where people want to come, to live work and play. We agree with the Glasgow City Council City Centre Strategy that calls for this way to encourage investment and development
We have tested this approach which found strong public support for
a public park where people can meet friends and others socially
the mature trees, aiding health and wellbeing while reducing pollution
the internationally recognised Four Seasons mural attracting visitors
We think a welcoming open breathing space, in this ancient part of town, would be a city changing asset. Events with entertainments and markets could be held and would be solid value for the people who make Glasgow.
Find out more at merchantcitypark.org.
Greyfriars Garden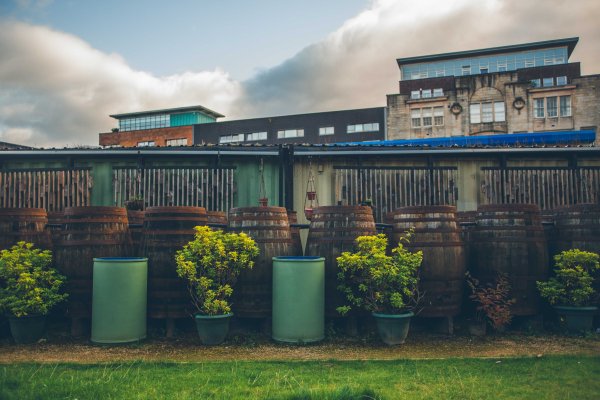 Currently located between High Street and Shuttle Street, Greyfriars Garden will soon move to a new home further up High Street, just before the Barony C Church.
Bringing together communities from the Merchant City, Trongate and the the Drygate area, the garden provides a safe and nurturing space for local residents to commune, socialise, grow their own food and learn about all the aspects of gardening in a raised bed allotment.
With a blossoming wild flower meadow it provides an important green lung to the city supporting biodiversity including bees, wasps, butterflies, rabbits, voles and the occasional fox.
Greyfriars Garden is an oasis in the middle of the city, promoting socialisation within and between communities. It is a calming and nurturing environment that enriches the lives of those involved, those who visit and those who pass by. There are over 40 plots and the gardeners used recycled materials to build a wormery and compost container with a number of plot holders enthusiastically undertaking roles and responsibilities from litter clearing, composting, general management of the garden, fundraising and of course our regular barbecues and socials. Local schools have used the garden for their school projects.
Find out more about Greyfriars Garden.
Defibrillators
MCTCC has campaigned for some time to have defibrillators installed in our area, and were ready to invest in their installation. In January 2020, we learned that a joint initiative between Glasgow City Council and St. John's Ambulance will see defibrillators installed in several locations around the City Centre. We are pressing for some to be located within the MCTCC area, and will update this page with any news about their installation.
At present, one is available at AXM on Glassford Street.
Friends of Ramshorn Graveyard
Initial discussions are under way to create a "Friends of Ramshorn Graveyard" group. Further progress is on hold until after the lockdown.